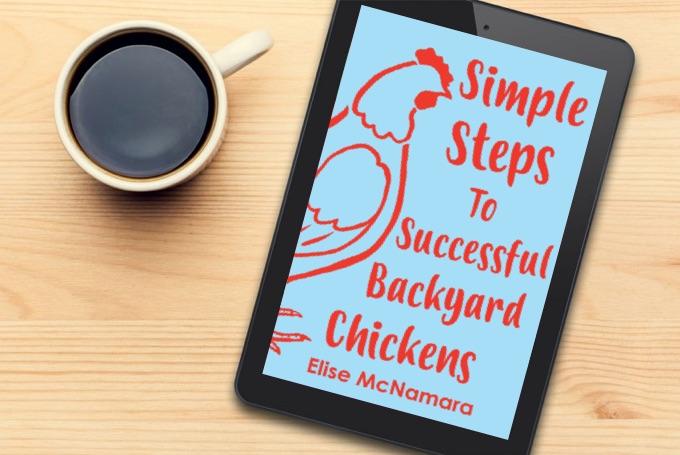 Simple Steps to Successful Backyard Chickens the eBook
by chickencoach
Master the basics of backyard chickens and become an expert in just 30 minutes!
By expert Chicken Coach, Elise McNamara
Save years of trial and error or Googling the answers.
Find all of the expert advice you'll need for a successful backyard flock in my new, easy-to-read eBook.
Why you need "Simple Steps to Successful Backyard Chickens" - the eBook
Read the whole eBook and become a backyard chicken expert in under 30 minutes!
Quick, easy-to-read advice covering all of the essentials of keeping chickens.
Set up your coop and hens for success.
Specialised, expert advice designed to deliver the best results, with two chapters dedicated to the Australian climate.
Simple Steps to Successful Backyard Chickens
Master the basics of chicken keeping and maintain a healthy, productive flock with Simple Steps to Successful Backyard Chickens. 
It's the ultimate quick-start guide for any backyard chicken owner. Save years of trial, error and Googling your chicken questions!
Topics covered include
10 common backyard chicken mistakes to avoid

a list of things to consider before getting chickens

glossary of common chicken terms

backyard chicken FAQs

choosing a breed

where to buy healthy chickens

questions to ask a breeder before buying chickens

bringing your chickens home

your shopping list of things to buy

a checklist of things to do and how often

chicken coops and housing

feeding

moulting

broody hens

behavioural issues you may encounter

what to do when you go on holidays

common parasites and how to treat them

common illnesses and dealing with sick chickens. 
Whilst the content in this eBook is relevant everywhere in the world, the following chapters are most relevant to Australian backyards: 
T

op 10 breeds for Australian backyards




P

lanning for hot summer weather
Price in $AUD. File size 11.1MB. You'll receive a link to download your eBook upon purchase. Enjoy!