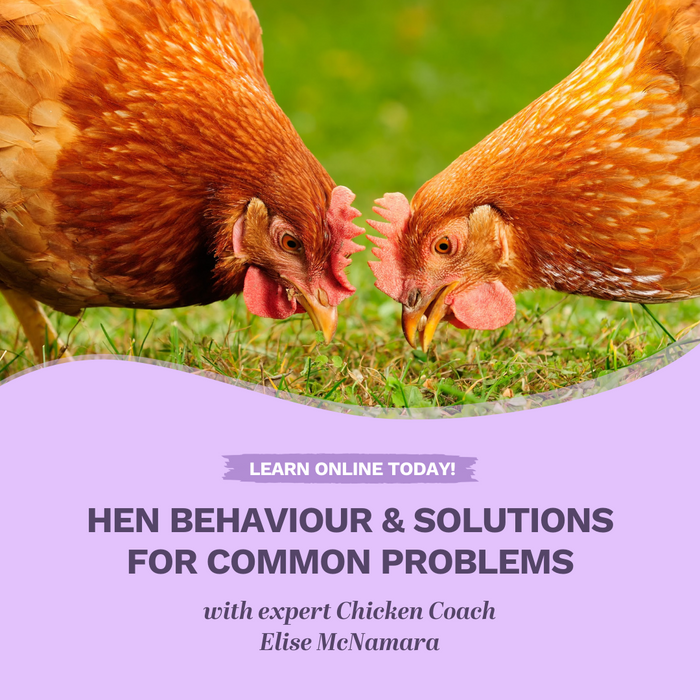 Hen behaviour and solutions for common problems
by chickencoach
Join expert chicken consultant and educator Elise McNamara for this live online workshop, Hen behaviour and solutions for common problems.
This workshop is module 4 of Elise's signature online course and coaching program, A-Z Natural Chicken Care online course & coaching program. You can buy access to this workshop separately, or view full details of the course and coaching support here.
Who is this workshop for?
Backyard chicken owners who want to know how to stop cheeky chooks laying on the floor, sleeping in nest boxes, scratching up the garden, broodiness, bullying, flying chickens, and other issues. Arm yourself with practical, natural, tried, and tested methods for managing common poultry behaviour issues. 

When is it?
7:30 pm AEST, Thursday 4 August 2022.
A recording will be available for 7 days after the event if you can't make it live. The recording is a shorter version of the workshop. It's the same content without audience participation.
What will we cover?
Common behaviour challenges and how to fix them

How to get pullets to roost

How to get pullets to lay in the nest boxes and not all over the floor

How to stop pullets and hens from sleeping in nest boxes

How to stop your flock from scratching up your garden

How to break a broody/clucky hen

How to clip a wing safely

Discover ways to minimise bullying in your flock

Together we'll bust the myths and misconceptions around moulting

Give you a step-by-step plan of what you can do to help your hens through their annual moult
How long is the class?
The webinar will run for 50 minutes, including Q+A.
Questions? 
Send me an email - elise@chickencoach.com