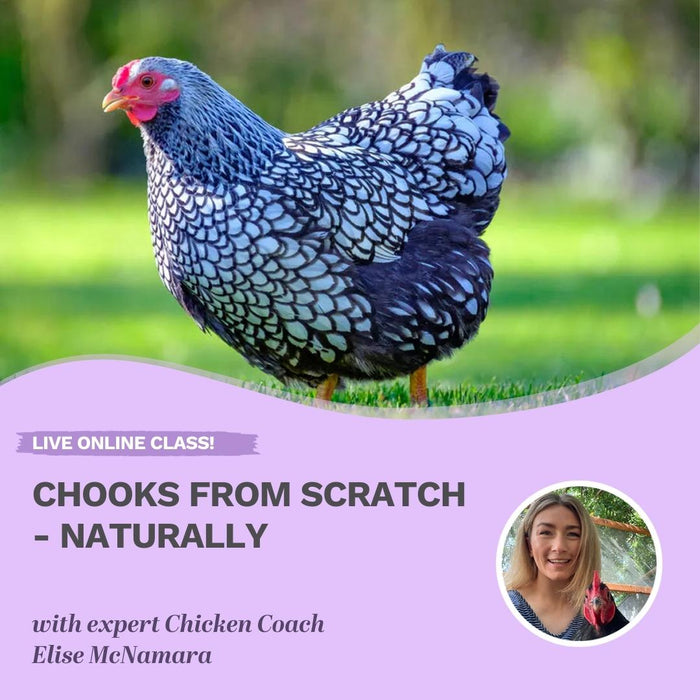 Chooks From Scratch - Naturally. LIVE online workshop Sunday 29 October 2023
by chickencoach
Wondering how some people make chicken keeping look easy?
Get started on the right foot and be confident in the care and health of your flock, with expert Chicken Coach, Elise McNamara.
Watch the video here > https://vimeo.com/761878623
Chooks From Scratch, Naturally. 
WHAT: A 90-minute live online workshop, followed by 30 minutes Q&A.
WHEN: 10:30 am - 12:30 pm Sunday 29 October 2023
A recording will be available if you're unable to join me live. 
You'll learn all about:
1.  A daily, weekly, monthly and bi-yearly care routine you can adapt for your flock
2.  The BEST feeders, drinkers, coops/houses for backyards (no DIY required!)
3.  The best feed for heritage chickens and commercial layers (like ISA Browns)
4.  Where to find healthy purebred pullets and hens
5.  Common diseases of fowls, symptoms of illness, how to do a health check  
6.  Chicken parasites you need to know and which products actually work
WHO IS THIS WORKSHOP FOR? 
You want to feel confident in your own ability to observe your chooks' health and behaviour
You're looking to get started with backyard chickens and you want to start with healthy chooks and an easy set-up
You want an easy list of things to do, when and how

You want to know you're feeding the right feed for your flock and you're not attracting every wild bird and rodent in the district!
Questions? Email me at elise@chickencoach.com
I look forward to meeting you!