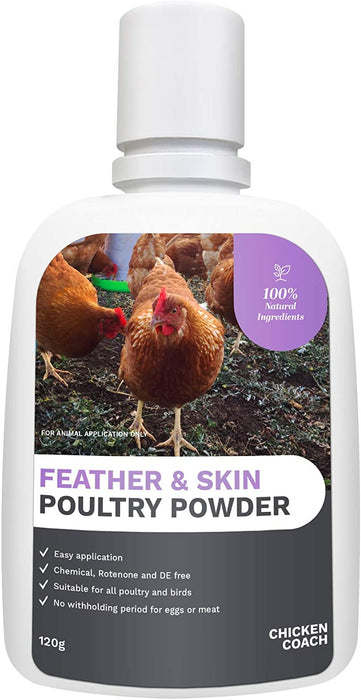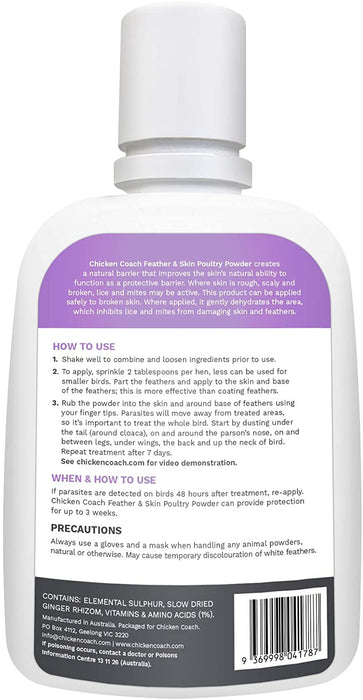 Chicken Coach Feather & Skin Poultry Powder
by Chicken Coach
Looking for a safe and natural treatment for chicken lice and mites that actually works?
Chicken Coach Feather & Skin Poultry Powder is 100% natural powder used for lice and mites in your poultry. It's the only Australian made, veterinarian formulated natural product that does not contain Rotenone. 
Veterinarian Formulated 
Trusted and used by Australian vets
Trusted and used by certified organic farmers across Australia
Suitable for all poultry and birds
Chemical Free
Rotenone Free
DE Free
No withholding period for eggs or meat.
How to use
1. Shake well to combine and loosen ingredients prior to use
2. To apply, sprinkle 2 tablespoons per hen, less can be used for smaller birds. Part the feathers and apply it to the skin and base of the feathers; this is more effective than coating feathers.
3. Rub the powder into the skin and around the base of the feather using your finger tips. Parasites will move away from treated areas, so it's important to treat the whole bird. Repeating treatment after 7 days is recommended.

When and how often to use
If parasites are detected on birds 48 hours after treatment, re-apply. Chicken Coach Feather & Skin Poultry Powder can provide protection for up to 3 weeks. 
Ingredients
Elemental Sulphur, Slow Dried Ginger Rhizome, Vitamins & Amino Acids (1%)