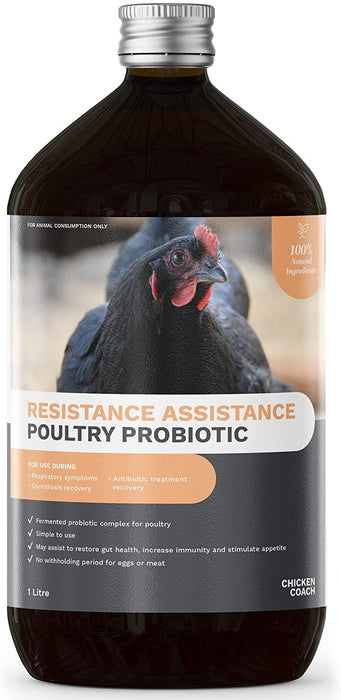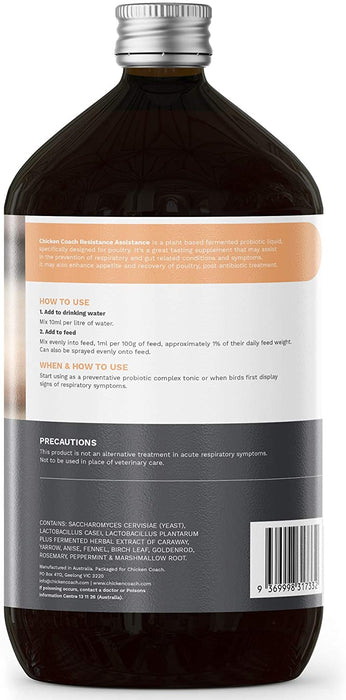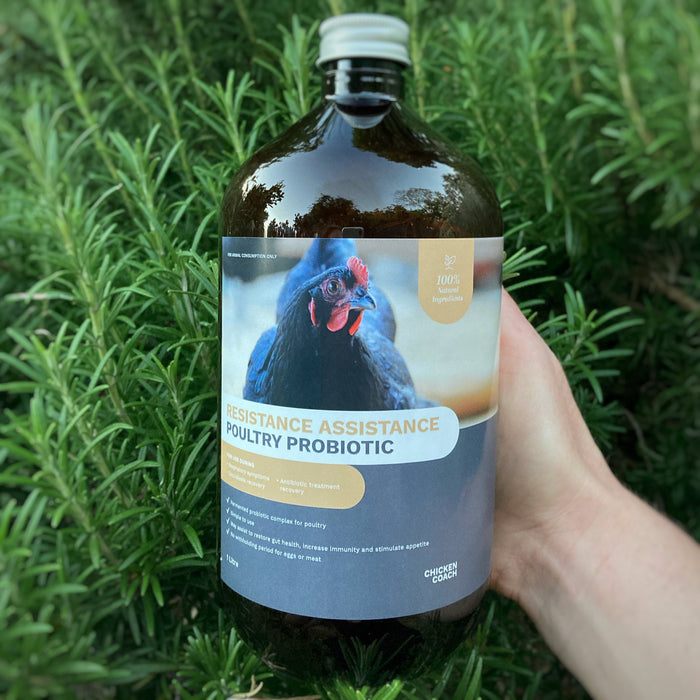 Resistance Assistance Poultry Probiotic
by Chicken Coach
Sick chooks?
Respiratory symptoms in your flock (sneezing, wheezing etc)?
You NEED this! Used and recommended by Australian Avian Veterinarians. An amazing Australian product. 100% natural, safe for all ages of poultry, no withholding periods for eggs or meat.  
Why your hens need Resistance Assistance Poultry Probiotic
Resistance Assistance is a Fermented Probiotic Complex for poultry that may assist to restore gut health, increase immunity and stimulate appetite. 
Rearing chicks? We're seeing outstanding results in exhibition breeder pens and commercial farms in the growth and resistance of chicks. 
When to use
Respiratory symptoms
Coccidiosis recovery
Antibiotic treatment recovery
Loss of appetite
Start using as a preventative probiotic tonic, or when birds first display signs of respiratory symptoms.
Moulting - it's also rich in amino acids
To increase the appetite and growth of chicks
How to use
Feed: Mix evenly into feed, 1ml per 100g of feed (approximately 1% of their daily feed weight). 
Precautions
This product is not an alternative treatment for acute respiratory symptoms. Not to be used in place of veterinary care. If your bird is on antibiotics, it's recommended you wait until 12 hours after the last treatment before commencing Resistance Assistance. 
Why I love this product
It's so much more than a standard probiotic, which are just bacteria growing on a basic substrate. Resistance Assistance is live liquid, fermented, herbal and rich in amino acids that your birds need as a precursor for disease resistance. It creates the ideal environment for good bacteria in your chickens' gut to thrive. If you're in and out of the vet, are regularly using various antibiotics and they are still not 100%, please give this a go!
100% natural ingredients
Saccharomyces Cervisiae (Yeast), Lactobacillus Casei, Lactobacillus Plantarum, plus fermented herbal extract of Caraway, Yarrow, Anise, Fennel, Birch Leaf, Goldenrod, Rosemary, Peppermint & Marshmallow Root.