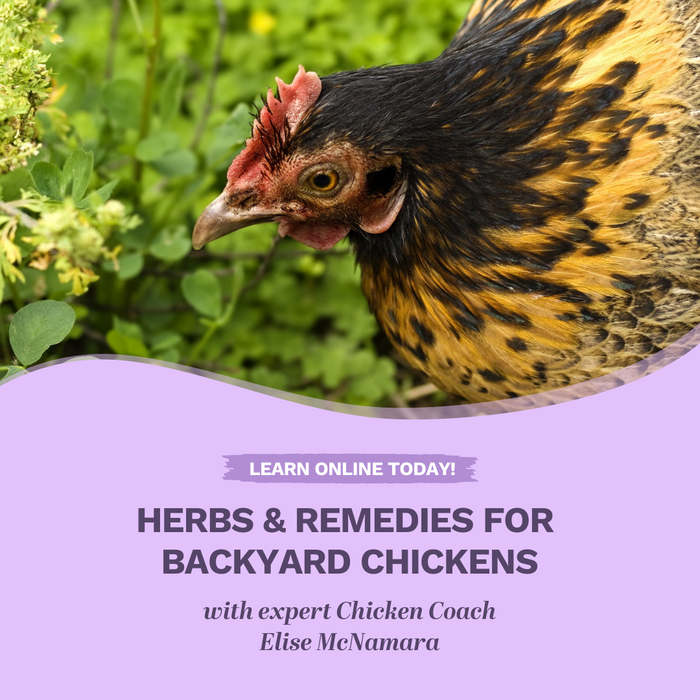 Herbs & remedies for backyard chickens
by chickencoach
Join expert chicken consultant and educator Elise McNamara for this live online workshop, Herbs & remedies for backyard chickens.
This workshop is module 8 of Elise's signature online course and coaching program, A-Z Natural Chicken Care online course & coaching program. You can buy access to this workshop separately, or view full details of the course and coaching support here.
Who is this workshop for?
Anyone wanting to learn how to incorporate herbs and natural remedies into their flock for healthier hens and eggs. 

When is it?
7:30 pm AEST, Thursday 8 September 2022.
A recording will be available for 7 days after the event if you can't make it live. The recording is a shorter version of the workshop. It's the same content without audience participation.
What will we cover?
Preventative chicken health using herbs and remedies
Understand the fundamentals of Natural Poultry Nutrition
Learn my #1 method for supplementing chickens with herbal remedies
I'll share with you the best products plus recipes you can make at home when your hens need a boost!
How long is the class?
The webinar will run for 50 minutes, including Q+A.
Questions? 
Send me an email - elise@chickencoach.com